Useful tips for a boat travel
Here you will find very useful tips for your next boat travel.
During a weekend trip on the Catalan coast we usually take advantage of the day to navigate. We therefore eat on board although it is possible to go to port or anchor the boat if the weather permits. We sleep on board moored in the port of our choice.
On longer trips on the Costa Brava or at the Islands we alternate navigation by sail together with pleasant anchoring in coves recommended by the Captain. With swim goggles or scuba masks enjoy the wonderful opportunity to discover the underwater world our littoral offers. You can also go on land with the dinghy to walk on the beach at sunset.
Depending on your preferences and also on the weather forecast we usually sleep on board in coves and also at port to fill the water tanks, stroll around or shop for necessary things on board, etc.
Tips in organization on board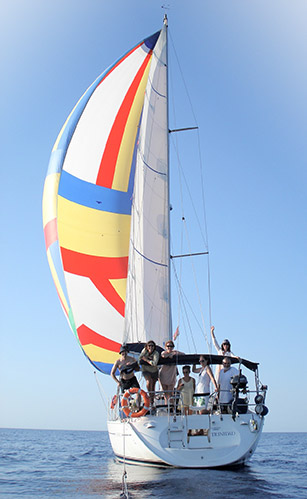 Life on board: Kitchen and cleaning chores are shared by all. It is important for a harmonious cohabitation in a reduced space and for making everyone on board feel more comfortable and at ease.
Experience: It is not necessary to have any previous experience on boat at sea. The Captain is fully qualified to manage the boat alone. You may, with no doubt and if you wish, learn and help with the navigation. Your help will end up being very useful and fun for all.
Dogwatch / Night Watch: It is usual to organize and share night watch during long journeys so all on board can rest, although the Captain is always on the alert. You will discover the magic of night navigation, in good company to share and enliven the experience, under a sky never observed from your city.
Sea sickness: If you have never navigated before we advise you to take a pill, particularly the first day. Your body will get accustomed to the movement and you will probably not need them.
Expenses: We usually share a common pot to pay for food, moorings and fuel which are not included. The amount will depend mainly on the food preferences of the group (cook on board all the time, go out to restaurants, etc.). Our experience shows that the approximate amount for the common pot is between 25 and 30 euros per person per day.
Cabin
: The cabins are for two and therefore distributed according to the group. Couples occupy one and if you come alone the cabin is normally used by two women or two men.
Travelling alone: If you are worried about this you will be surprised! The majority of those who have travelled with us demonstrate that it is well worth doing so. The kind of person who tries this experience is, like you, mainly open minded, wanting to learn, wanting to share and meet others with similar interests. We are very proud to say that many long lasting friendships were born on board. Do venture into the experience of travelling alone on a sailboat.
Medicine and medical kit: There is a full and complete first aid medical kit on board. For further security it is important that you notify the Captain about your medication or allergies to any medication.
Cellphone coverage: Away from the coast there is no coverage. You will therefore have to wait until the crossing ends to call or be called. Depending on your telephone company you will be able to use your cellphone in most of the coves.
Accident insurance: We have contracted an insurance for the boat and civil responsibility towards third parties for those on board as well as an accident insurance for the crew. You may, nevertheless, contract a private trip cancellation insurance.
What to bring on board
Depending on the time of year you will have to think well about your luggage. It is always advised, even in summer, to bring some warm clothes because nights might be cool. A raincoat will be useful not so much for the rain but for the wind and to keep the chill off.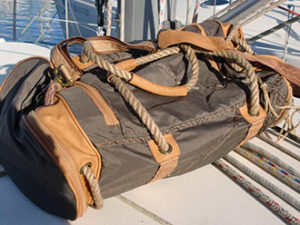 Remember that a hard suitcase will not be easy to keep onboard. It is better to bring a sport bag, easy to fold, because it will fit better in any place.
Nautical shoes or shoes with white rubber soles will make it more comfortable to navigate and avoid slipping. Bear in mind that shoes or boots with black soles stain the deck.
If you need to charge your cellphone or camera, etc., you may do so once at port although you may ask the Captain to provide you a power converter on board.
Sleeping bag. On board you will have a sheet covering the mattress, pillow and pillow case. If you think you might be cold it is better to bring a double sheet (like a bag) and/or a sleeping bag.
Bring along your own personal things such as toilet case, towel, sunscreen cream, goggles or scuba mask and fins, cap or hat, sunglasses, etc.