One week sailing in Balearic Islands
The Balearic Islands hide many havens of incredible beauty. Depending on the week you chose, also on your requirements, we will navigate around one or another island.
Minorca is the most requested island to visit by sail boat, this is probably due to its size and nature. You have two options: Get onboard in Barcelona and navigate to Minorca or get onboard in Minorca (flying from Barcelona). Crystal clear turquoise water, wild coves, together with an animated night life on terraces of restaurants and bars in ports are its best presentation card. In a week we can change from the tough and rugged North coast (Cala Algaiarens, Cala Pregonda, Ferragut, Cala del Pilar, Cabo de Cavallería, Cala Pudenta, Illa Colom and Es Grau) visiting small charming ports such as Fornells or Ciutadela, to the gentleness of the South coast with white sand beaches and pine trees growing at the edge of the sea (Son Saura, Cala Macarella and Macarelleta, Cala Turqueta, Cala Mijana and Mitjaneta, Trebalúger, Binigaus, Cala Coves, etc.).
Cabrera
. From Palma de Mallorca sailing to the 
Cabrera Archipelago Maritime -Terrestrial National Park
 is always a must. Its natural port was used by Berber pirates as their operational base from where to attack the coasts of Mallorca. For this reason, as early as the XIV Century, a castle was constructed at the entrance of the port which we like to visit at sunset to admire all the bay of Cabrera and also some of its North coast islets and even Mallorca. The Archipelago consists of 19 smaller islands and islets surrounding it. Its littoral is extremely rugged with cliffs and caves of great beauty such as Sa Cova Blava.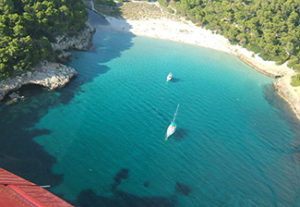 Mallorca
 hides marvelous coves. Bear in mind that it is very complicated to navigate around the entire island in one week due to its size and also because we always look for a protected area to spend the night and the weather does not always allow us to do so. We normally decide to discover only one part of the island. Surrounding it completely would imply navigating non-stop and thus missing on beautiful coves along the way.
On the West coast or Tramuntana Mountain Range coast is Sa Calobra, Sóller, La Foradada, Cala Figuera, Cala Tuent
On the North-East coast is the Bay of Pollensa, with the impressive lighthouse of Cabo Formentor and also Cala Pí, Engossauba, Cala Murta, Cala Formentor. Near the Bay of Alcúdia we like to anchor at Es Caló near the Colonia of Sant Pere.
On the East coast we recommend the charm of Port Colom, Cala Barcas, Cala Falcó, Cala Mitjana, Cala Mondragó, Cala Figuera de Santanyí.
On the South coast our favourites are Cala Egos and Cala Sant Helm in front of Dragonera Island, the port of Andratx, the beach of Es Trench and Es Caragol.
Ibiza is the Island that offers more night-life of all the Balearic Islands. It also hides beautiful, virgin and solitary coves, particularly on the North coast. Some of our favourite ones to discover by sailboat are Es Clot d'es Llamp, Es Racó de s'Atalaia, Ensenada de Aubarca, Cala Xarraca, Benirras, Port of Sant Miquel, the islets of Ses Margalides, Conejera Island, beach del Comte, Cala Horts and Es Vedrà, Port Roig, Ses Salines…
Formentera is the other most requested island to visit by sailboat. Its amazingly turquoise water transforms it in a film making setting. This is why Julio Médem decided to immortalize these colors in the movie "Lucia y el Sexo". In the month of August it is invaded by a multitude of yachts and tourists of all nationalities. Formentera is indeed a good option to navigate by sailboat but better still, in order to enjoy it, is to do so in June, July or September when the island is more peaceful. We can't miss anchoring near white sand beaches and crystal clear water beaches such as Espalmador, Illetes, Cavall d'en Borràs. It is also well worth it to go to the beaches of Levante, all of them in the Natural Park of Ses Salines to the North of Port Savina. Other of our favourites are Cala Sahona and Es Caló de Sant Agustí.